AN INCREDIBLE YEAR FOR MAD VERRERIE D'ART
2019 ended on a very good note, after one the craziest years Mad Verrerie D'Art has known. I owe this success to the support of my close ones and all of you who believed in my project in the first place. A big thank you to all of you !
Rather than simply wish you a happy new year, I thought it would be a good opportunity to look back at all the things we have achieved this year. I will also share with you som of the ambitious objectives we have set for 2020.
2019, a pivotal year for Mad Verrerie d'Art
End of 2018 – Beginning of 2019
Participation to the "Meilleurs Ouvriers de France" competition – Category Torch Blowing – "MACHINERY IN THE SERVICE OF ART"
During 6 months, I have been working hard on my art piece for the competition. A lot of research, drafting and prototypes were needed. I also had to face some procurement challenges to find suppliers able to get me the materials I needed (colored glass, opal, gold, etc.).
You can find more information on all the work I have done to build this art piece in this article.
April
Mad Verrerie d'Art 2.0
April has been a tipping point in terms of communication. Our website got entirely revamped in order to showcase who we are and what we do. This new website really puts a premium on our values and unique know-how, and highlights our creations. We can also publish updates on a more regular basis to keep our fans updated.
The online shop has also been entirely upgraded to be more conveninent and user-friendly. Since we went live with this new website, many of you fell for one or several of the creations available for sale online, and we thank you again for your trust !
Many thanks to Mobius Web who made this transformation happen!
May
Meilleur Ouvrier de France – Medal ceremony in the Sorbonne University & The Elysée Palace
I am very proud to have received the medal and the congratulations from the President ! After all these hours working hard for the competition, I have quite enjoyed being invited in such a prestigious place, and have a taste at the champagne and the Petits fours with our President. This day has definitively been one of the most memorable moment of my career.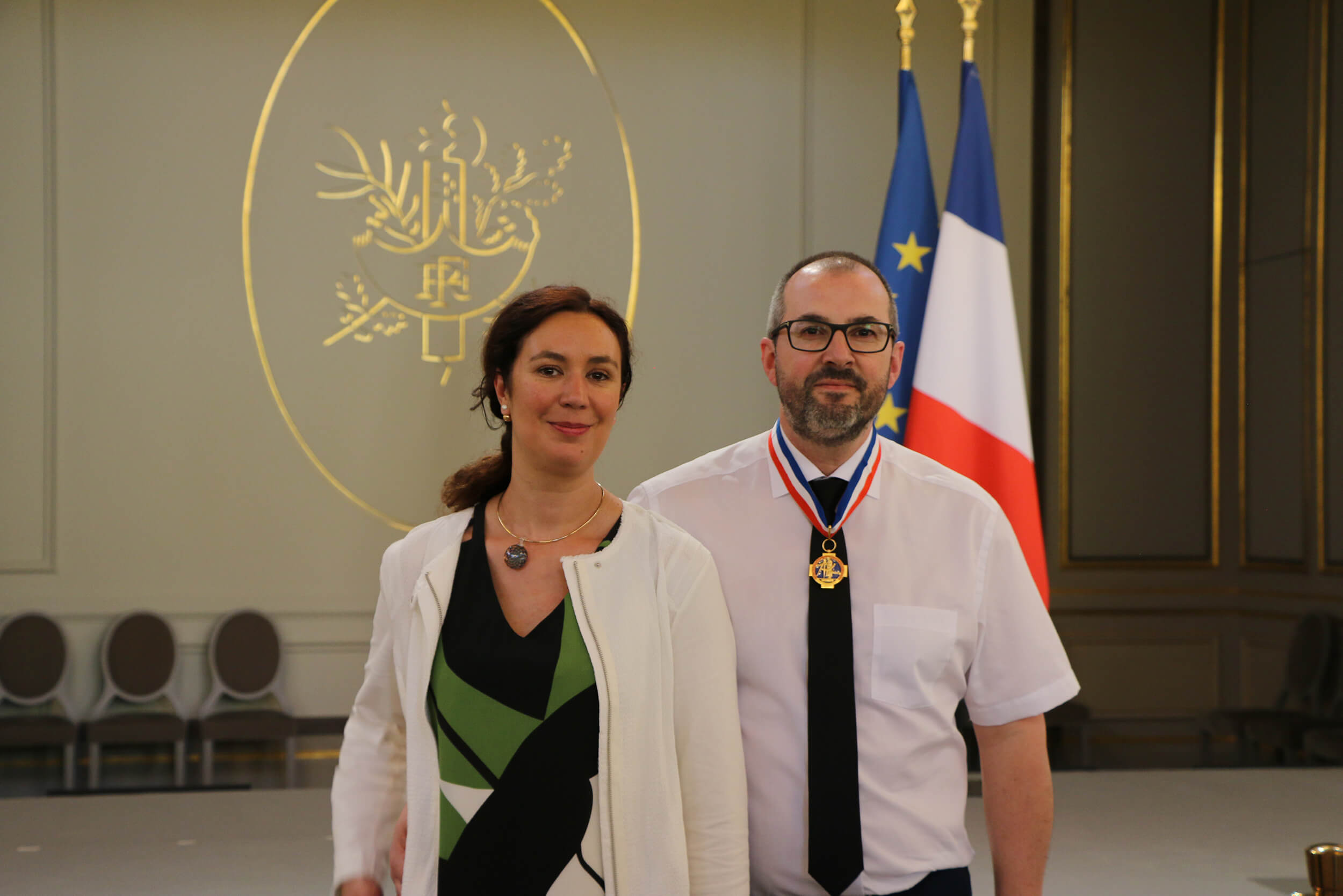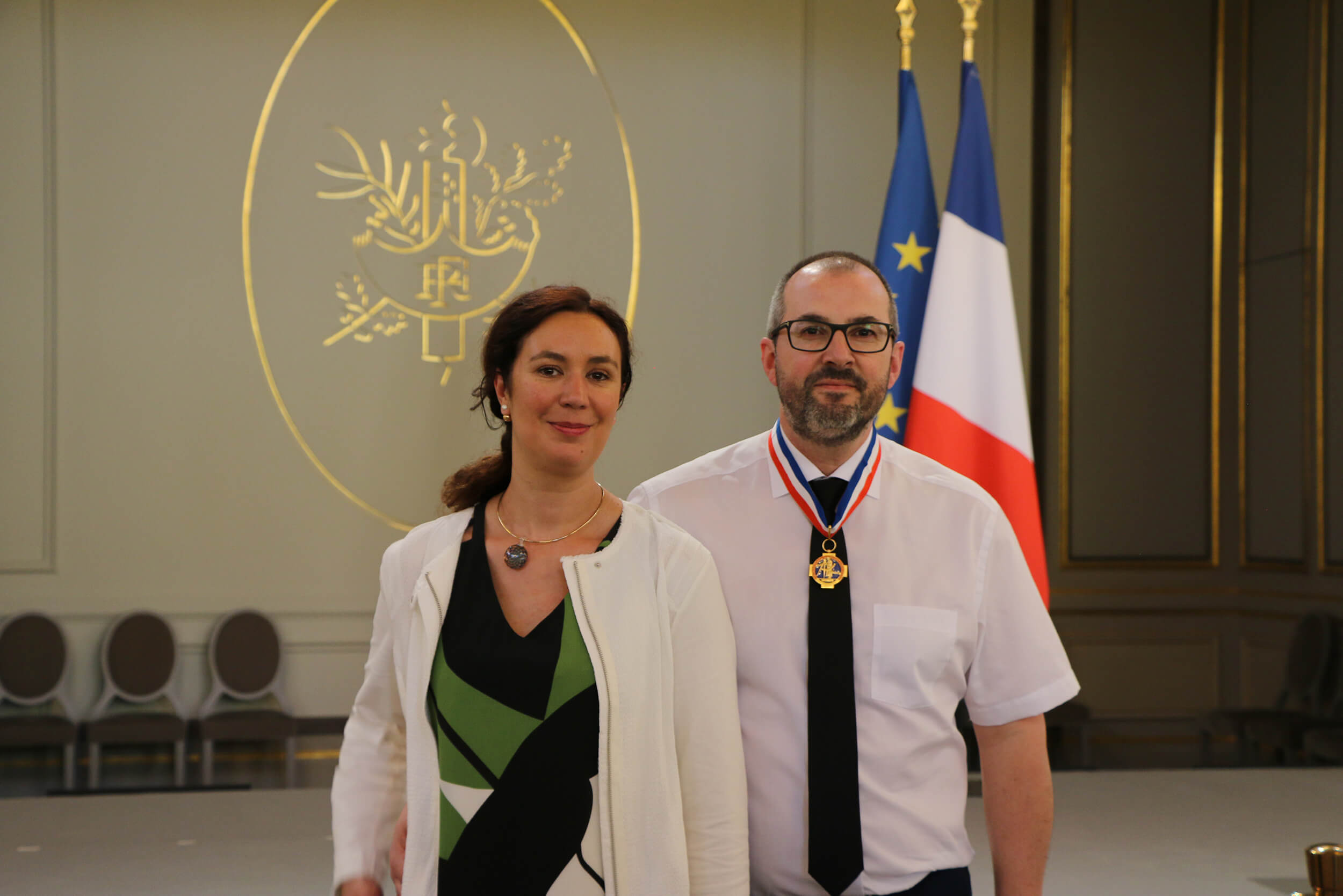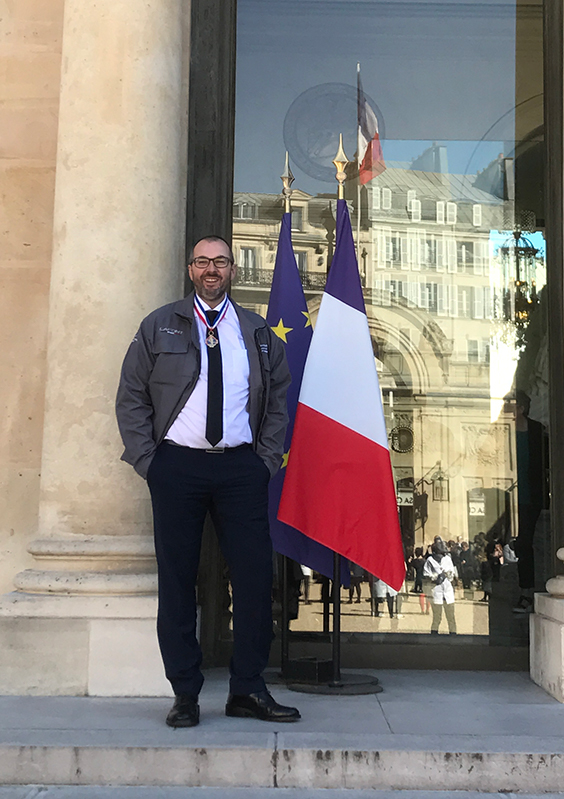 Exposition in Lunéville Castle
Back from Paris, I have also had the chance to attend the event "La Lorraine is formidable" in the park of the beautiful Lunéville Castle.
Between 150 and 200 artists were invited to showcase to all the curious visitors, all the talent and know-hows of our region. Tourism office, Historical landmarks, culture, creation, gastronomy… They have all gathered to show and explain their talents to the public for 2 days.
June
Demo at the prestigious Corning Museum Glass in New York, USA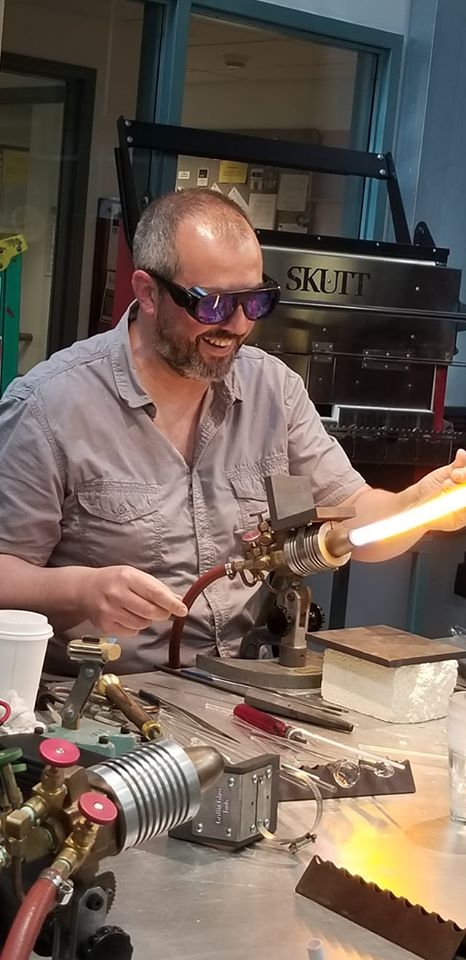 Through my glass artists friends Cédric Ginart et Karina Guevin, I have had the chance to be invited at the Corning Museum Glass in the US. This is one of the most prestigious places of the world for Glass artists like me, and this is where the next generation of us are shaped and trained.
In front of a venue full of students, I have demonstrated my torch blowing skills.
Participation to the [G]HOST project – First glass blower in History to be filmed in 4D in order to record artisanal know-how
As part of my collaboration with the CERFAV institute, I have accepted to help them in their brilliant project aiming at safeguarding gestures, moves and techniques of artisans / artists like me.
The [G]host project supported by the CERFAV is part of an ambitious strategy of modernisation of the ways to teach and transmit artistic knowledge and skills, involving cutting edge innovation such as XR and 4D recording.
I have been recorded in 4D myself during the making of one of my creation – hopefully these documents will help future generations to study and learn glass blowing techniques.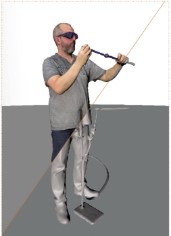 XR in glass crafts : les gestes du chalumiste en réalité augmentée

Parce qu'apprendre les techniques verrières au Cerfav c'est pouvoir visualiser les gestes fins des métiers d'art dans tous les environnements. Le projet [G]host porté par le Cerfav concerne les nouvelles stratégies de formation dans les métiers d'art du verre qui mettent en jeu les technologies (XR) émergentes. En savoir plus : https://adobe.ly/2IuLeil Capture volumétrique : 4DViews Souffleur au chalumeau : Frédéric Demoisson "Meilleurs Ouvriers de France, 2019" www.madverreriedart.fr Application réalité augmentée David Arnaud - Cerfav : unity3d - Vuforia, a PTC Technology Because learning glass techniques at Cerfav means the ability to visualize the fine gestures of fine crafts in all environments. To learn more about the new training strategies in glass crafts that involve emerging technologies (XR), see the project : [G]host - https://adobe.ly/2IuLeil

Posted by Cerfav on Wednesday, 17 July 2019
July
Participation to the Flame'off Festival – FIMA Baccarat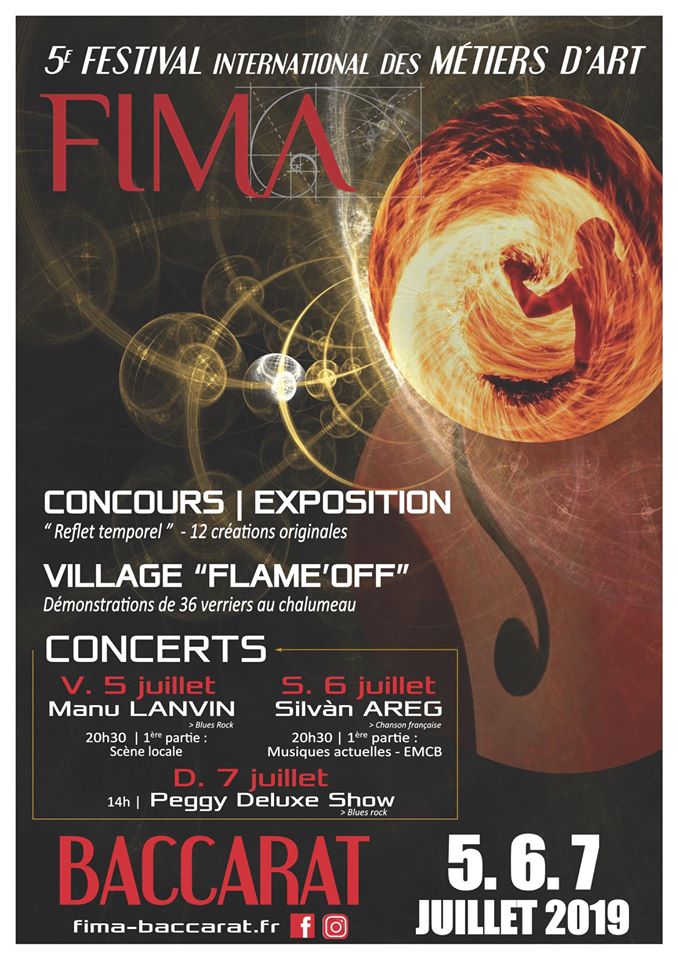 This year, the 5th edition of Flame'off joined forces with the FIMA (Festival International des Métiers d'Art) in Baccarat ! A lot of people came to watch the numerous demonstrations of our talented glass artists and others.
Once again, the FIMA and Flame'off festival has been an amazing event, and took place in the beautiful Parc de la Roseraie.
It has been an honor to be part of  the first Pop-up Shop initiative edition of the "Communauté de Communes Mad & Moselle" this Summer. On July 25th, I have made a demonstration and exposed some of my creations in the pop-up shop set up in Novéant. It was a lovely day to share our art and meet with the visitors.
Les Islettes  – Argonne Glass Museum
Like every year, I have joined my friends of the Argonne Glass Museum to make a demonstration of artistic torch blowing and expose my latest creations.
August
Training in Lebanon – Les ateliers de Tyr
I have had the honor to visit the "Ateliers de Tyr" in Lebanon, about 1h15 from Beyrouth. I have trained glass artists to the new techniques of torch blowing. It was a great experience and I met incredible people there.
September
Mad Verrerie D'Art received the "Parc National de Lorraine" label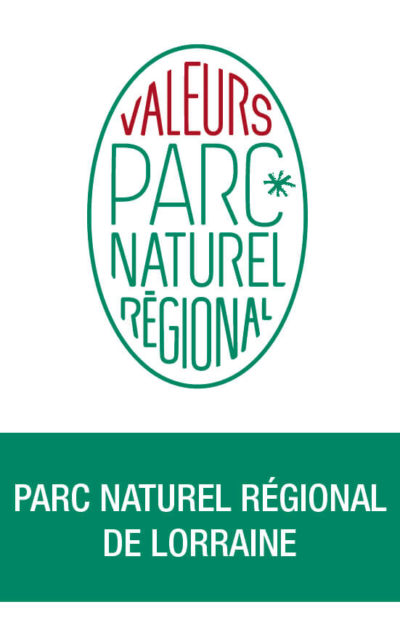 As a lover of my home region. the Lorraine, this label means a lot. I am part of the 6 artists from Lorraine to be granted by this label, rewarding my work and skills as part and parcel of the Lorraine heritage.
Artistic Collaboration – The Umbrella
In August I have shared a lot of pictures about my collaboration with three artists I truly admire. Together, we have worked on a unique and gorgeous umbrella. This unique creation is made of a painted canvas in acrylic, the application of 24 carats sheets of gold, precious wood, gold and silver smoked glass and finally the insert of several opals.
The making of such a delicate piece of art has been a huge challenge, but the sweat and tears we put in it definitely worth the final result.
A big thank you to my fellow artists :
Serge ORION – Designer Umbrella couture
Jean Renaud SCORDIA – Meilleur Ouvrier de France Maître tourneur
Carolina ALFONSO – Artist painter
Exceptional opening of our new workshop for the European Heritage Days
My wife and I have refurbished an old barn from our town to turn it into our new workshop open to public.
A lot of work and elbow grease have been necessary to be ready to open on time for the European Heritage Days end of Septembre. We still have a lot to do and the construction work are still not 100% done, but it was enough to open it only for this week-end.
The cake and the few drinks we had candidly prepared for the event were far from enough to cope with the 300 and more curious who flocked to our workshop this week-end.
Thanks to all of you for your visit. It is very conforting for us to see that so many people are interested in what we do !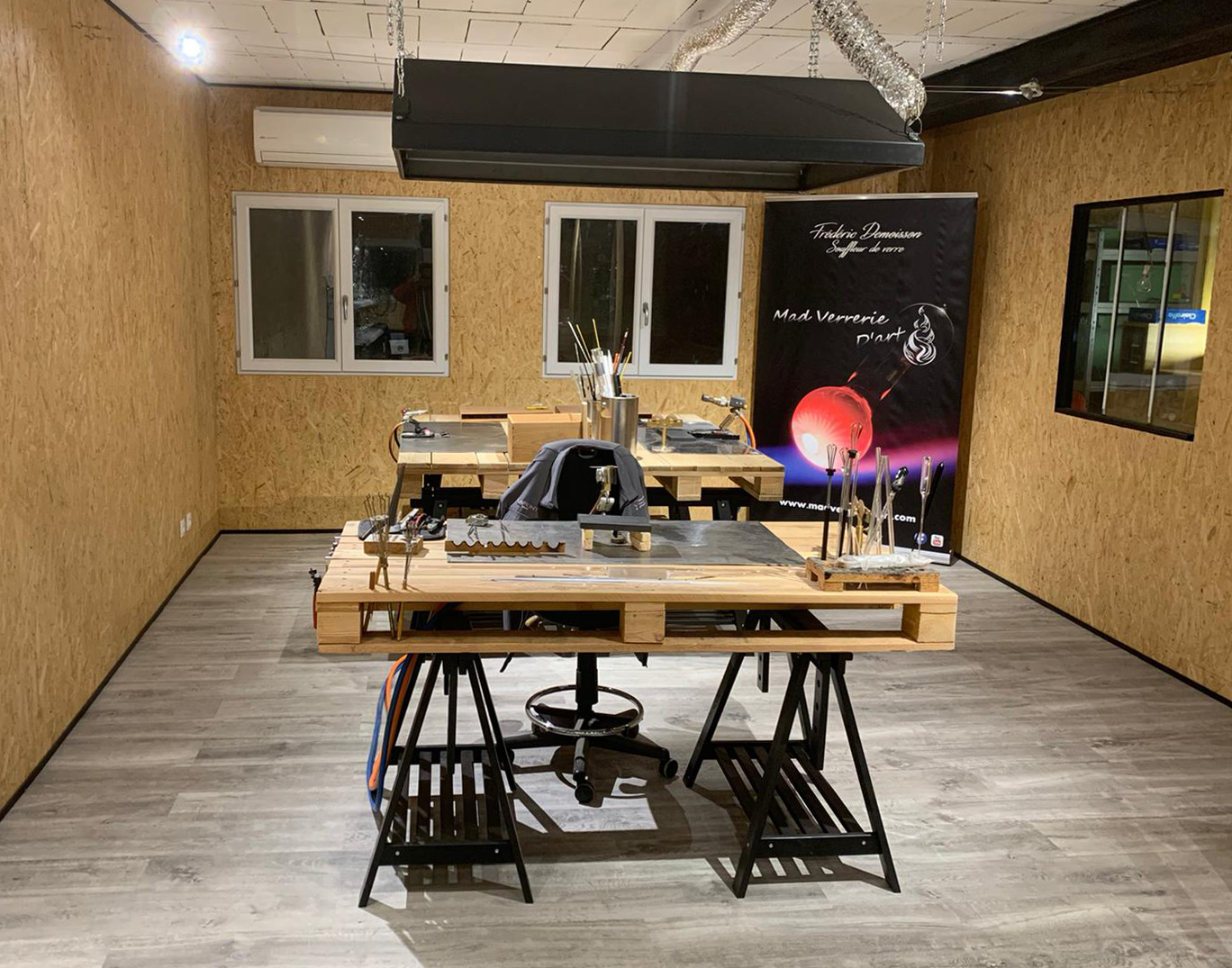 October
Welcome to madverreriedart.com (in English !)
Following from my many trips abroad for work, my collaborations worlwide amd the ever-increasing number of foreign visitors on my website, it was high time for me to gear up to be able to address my public outside of French speaking countries.
My friends from Mobius Web lent me a hand to upgrade my website with an English version, enabling me to explain who I am and what I do better to the English-speaking visitors.
November
Rodemack Winter Lights festival
On November 22nd and 23rd, we have done another public demonstration of our torch blowing during the Winter Lights festival in the citadel of Rodemack.
December
TF1 television report
Over the last few years, we have had the chance to be the topic of many regional newspaper articles. At the end of 2019, the French main TV Channel (TF1) came to my workshop and interviewed and filmed me for their news bulletin. Event if our segment turned out o be relatively short in the end, it was great to be able to promote our art and our workshop in the whole country !
Once again, thanks to all of you for your support this year, and please feel free to visit us at our workshop or on all the events we will attend. For this new year more than ever, I really want to put a premium on communication and collecting your ideas and feedback as often as possible. 
We wish you all the best for 2020 !
Frédéric Demoisson et Stéphanie Demoisson